Posts Tagged 'Zetterberg'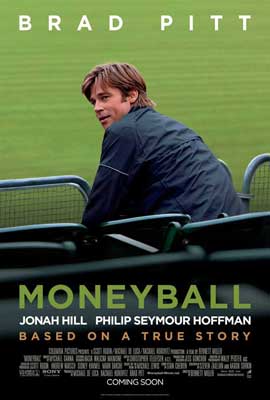 I love going to movies. And it doesn't really matter what's playing. It's a great chance to sit back and be entertained for a couple of hours. Sometimes the product is great and other times it was just a fun way to step away from training and work and relax for bit.
Recently I went and saw Moneyball with Brad Pitt. I thought this was a great show but I can understand why some baseball fans would be put off by the story. If you haven't seen it here's a quick synopsis.
Oakland is a small market MLB team with the same aspirations of every other team in the league which is to win a World Series. However the constraints of playing in a smaller marker mean less revenue is available to draw, sign and keep the top talent in the game.
As the A's continue to lose top level players to free agency and fat pay cheques elsewhere they begin using a new system for building a team. They start selecting players based on a computer program that identifies on base percentage, amongst other things. Oh yeah, the program also breaks down the statistics of the players with their contracts so it becomes very clear to choose undervalued players, based on this computer model, and build a successful team.
In the end A's are quite successful with this approach but never win it all. Other teams notice what they are doing and begin drafting, trading and signing players based on this method also.
But would this work in hockey?
Could you use a computer program to build the best team possible for the best value? These goals translate all sports. It doesn't matter the game. Every owner and GM is trying to win a championship without having to break the bank.
If we were to build this computer program to identify the best, hidden talent out there what would we want to put on the list?
Now let's remember for a second that we need to find players that may become great one day but are available for a dime. So we can't load up on Ovechkins or Crosbys. The problem with these types of players is that everyone knows they are awesome and therefore we can't afford them.
So what attributes do we look for in a player to find untapped potential?
Do we look for the best physical specimens? Or the ones who put team first?
Where do you start when putting your list together? Can you find players in ECHL such as Alex Burrows who will one day play on the top line of a Stanley Cup finalist team?
Are there any other Zetterberg's out there available for the draft?
Recently a research article identified a number of physical characteristics that translate to on-ice performance at the NHL level. Do we simply evaluate potential players to see how they score on these abilities?
What would you do if you were the GM of an NHL team and were given the task of creating a moneyball system for hockey? What would your list of criteria look like? And in addition to the criteria you identify give an example of a player you would draft, sign or go after to have on your team.
I look forward to your answers in the comments section.
Chris                                                                                                                                                onsidehockeytraining.com