Skating is a huge part of the game of hockey. Everyone has heard the stories of players who were gifted in certain aspects of the game or who had all the other requisite tools but didn't go far or didn't get drafted. Read the rest of this entry »
A couple of weekends ago we hosted the Okanagan Strength & Conditioning Conference.
This was an ambitious undertaking as we went out to bring in 5 of the top coaches and researchers in our industry to Kelowna for a few days. This was ambitious because there are fitness conferences in Canada already learning about Zumba insn't going to help your on ice performance.
But learning from Sean Skahan probably will.
Sean's the strength & conditioning coach for the Anaheim Ducks. He's been with the team through a few different coaching changes, had nine players in the 2010 Olympics, three of which won gold for Canada. And he was with the team when they won a Stanley Cup in 2007.
So you could say Sean's been around and worked with some successful hockey players.
Wouldn't it be valuable to peak inside his training program? Wouldn't you want to see what he considers important to the development of an NHL player? Wouldn't it be helpful to ask him some questions as to what is working with him in his training?
Absolutely it would!
And Sean, like many top flight coaches, is a big proponent of the Functional Movement Screen. If you're not familiar with the FMS don't worry about it. It's a tool used by coaches to screen movement patterns of players. From this screen the coach can then tell which movement patterns are deficient or unbalanced. And this then provides an appropriate starting point for helping offset potential injuries during the season.
The FMS involves 7 tests but I'm going to talk about one in particular which is the Hurdle Step.
This test looks at three things:
* stability of the stance leg
* hip mobility of the stride leg
* core stability
When scoring an FMS you can assign a score of 0 to 3 depending on the quality of the movement. A zero indicates pain when performing the movement and a 3 means the movement met all the desired criteria.
Sean mentioned that he believes hockey players need a 3 on the FMS in this test. This is because the test challenges the stride mechanics. And striding is an integral part of the game of hockey. It also provides feedback on the coordination and stability of the hips and torso. Lastly it is a test performed on a single leg which is sport specific to hockey.
When looking at the hockey player performing the Hurdle Step we want to look for a number of things.
1. Stability of Stance Leg
One of the aspects of the Hurdle Step is that we want to assess the stability of the stance leg. Are the toes and knee pointed forward? Are the pelvis and hip neutral? Are they balanced on this stance leg or wavering?
If they are scoring less than a 3 it may be due to a weakness of the muscles providing the base. Think of your hip abductors such as glute medius. Sean mentioned he likes to use side lying leg lifts to activate this muscle group.
2. Mobility of Stride Leg
While one leg is supporting the body the other knee lifts the leg up and over the hurdle. A common issue for hockey players is psoas weakness.
With this test you want to make sure lifting the knee is not accompanied by lumbar flexion. In other words in order to get the knee up the low back should not round.
3. Core Stability
You can think of core stability as the ability to maintain proper alignment in the presence of movement. In this case the movement would be the lifting of the stride leg. Does the body dip towards the side of the unsupported leg? Does the hockey player get shorter when they lift one leg off the ground? If they had lasers coming out of their hips would the laser light move when the leg lifts?
There are a number of ways to assess core stability on this test. Use the previous cues if you like. The key is to be able to generate movement in the extremities without moving the rest of the body.
In our hockey training program, Premier Hockey Training, we give you a cheat sheet to be able to correct any of the movement dysfunctions you may have. Give it a try and see the impact in has on your ability to stay healthy and play at your highest level.
Here's  a look at the cheat sheet I put together in Premier Hockey Training.
Corrective Exercise Treatment Table 'Cheat Sheet' (sample)
Compensatory   movement

Tight/over active muscles

Weak/under active muscles

Treatment

1. Foot   turns out – externally rotates in anterior view

Calf complex:  gastrocnemius,
peroneals, soleus

Gluteus medius, gluteus
maximus, medial hamstring
(posterior tibialis)

SMR (foam roll) calf complex,
static stretch calf complex,
lateral band walking

2. Knee   moves inward – adducts

Adductor complex: (peroneals,
lateral gastrocnemius)

Gluteus medius and gluteus
maximus (posterior tibialis)

SMR adductor complex, calf
complex, lateral band walking, supine     bridging

7.   Upper body – arms fall forward

Latissimus dorsi, pectoral
major and minor

Mid-lower trapezius,
rhomboids

SMR back and lats, foam roll
on length of spine with arms
outside, pull overs, prone cobra
Pick up a copy to get your own cheat sheet for correcting your movement dysfunctions.
Chris                                                                                                                                                                                                                                              onsidehockeytraining.com
During the school year we run an afternoon Youth Fitness Training program. This is a non-specialized program meaning it's not geared towards any one particular sport.
Athletes that participate will learn proper warm-ups and mobility drills. They learn proper posture and stabilization. They learn 3 dimensional movement and are able to control their bodies in all planes before they begin to handle any type of load.
Even once they learn many of the basics described above they still won't move on to external load. They'll start with a number of variations of bodyweight squats, push ups, chin ups and get ups. At the end of the training session they'll do these as a circuit or relay and compete against each other.
Last week these got a special treat however.
Josh Gorges from the Montreal Canadiens stopped by. And the guys were pretty excited about this. Not only to meet an NHL player but one from their home town playing for the most successful franchise in hockey.
Josh grew up Kelowna, played minor hockey here as well as junior for the Kelowna Rockets. He even captained the Rockets to their only Memorial Cup win in 2004. From there he went on play for the San Jose Sharks and now to Montreal with the Habs.
So you can understand the excitement of these young hockey players when one of their own drops by for a visit.
They were so in awe they couldn't speak to him or ask any questions. Basically we ended telling the guys to show Josh what they had been working on in their training. This allowed them to relax a little bit and demonstrate the skills they had been working on.
And as for Josh he's just about to get started with his training. Not making the playoffs makes for a long off-season. And Montreal has also gone through a number of management and coaching changes in the past year or so. So it'll probably be nice to start getting in some training sessions and work on getting ready for next year.
How did last year go for Josh? Well, I think you'd have to say that personally he had a successful year.
Coming off ACL reconstruction surgery this year was also a contract year for Josh. He played in all 82 games for the Habs, led the league in blocked shots, won the Jacques Beauchamp Trophy and signed a new contract with the Habs.
He'll now spend the off-season in Kelowna getting ready for next year in Montreal. The Canadiens strength & conditioning coach was recently out west to check in with Josh and their number one goalie, Carey Price, who hails from Anahim Lake, BC.
It's great to see a local guy do well in the NHL. And it's even better to have him check in with young players trying to get where he's at. Going un-drafted and having to earn tryouts throughout his career have defined his character and endeared him to teammates everywhere he has played.
Maybe one of the young guys in our after school training program will follow Josh's footsteps and play in the NHL one day as well.
Chris                                                                                                                                                                                                                                             onsidehockeytraining.com
So with the Rangers-Devils series the media keeps brining up the question about fatigue.
And John Tortorella keeps dismissing this as an issue.
Maybe it is. Maybe it isn't. Tortorella is answering the question the only way possible. By denying that fatigue is an issue for his players.
But the fact remains that players on both sides are feeling the cummulative effects of playing nine months already. Well everyone except Ranger call-up Chris Kreider.
So what goes on in between games to off-set the effects of fatigue? What are players on both sides, as well as the Western Conference, doing to enhance their recovery?
Below are 8 examples going on behind the scenes to get ready for the next game.
And the cool thing is these are all things you can apply to your training to feel better, move better and achieve better results.
Recovery Tip #1 – Nutrition
The key to applying this tip to its full potential is timing. Post workout you need to be drinking back a recovery shake with a 3-4 to 1 ratio of carbs to protein. The protein source could be 20 grams of whey, 6 grams of branch chain amino acids or 2 grams of leucine. All will get the job done.
But keep in mind that this needs to happen right away. As soon as you step off the ice. Not 30 or 45 minutes later. The sooner the better.
A few years I stopped in to check in with the Avs in Denver. After their game the strength & conditioning coach had their shakes on a ledge in the dressing room with their names written on tape. He started preparing these in the 3rd period so they were all ready immediately after the game.
Recovery Tip #2- Hydration
After training or playing you will lose water. As little as 2% dehydration will lead to a decrement in performance. And it prolong and minize your recovery.
It is important that you weigh yourself pre and post to track your water loss. Just make sure this is done with only a towel on so wet clothing is not factored into post-training weighing. You will  need to drink 2 glasses of water for every pound you've lost.
Recovery Tip #3 – Myofascial Release
Whether you are playing pro and make access to a massage therapist or use a roller of some type you can facilitate your recovery with myofascial release. Myo simply leans muscle and fascia is the tissue that links all of the muscles in the body.
Foam rolling is one way to increase blood flow and extensibility of the tissue. This helps speed up the recovery process and allows for your best performance next time on the ice.
Recovery Tip #4 – Sleep
Too often players consider sleep only the night before a game. However regular, quality sleep is similar to your nutrition. You can't wake up Saturday morning for an evening game and simply try and eat the best food possible.
These are habits that need to be established months and years ahead of time. The more regular your sleep is and the better quality it is the more benefit you'll get from your sleep.
And the extra benefit is you'll have more of a reserve to draw on for games that run into overtime. Or for travel that goes through the night. You will feel the effects of these types of scenarios less when you have your sleep already in order.
Recovery Tip #5 – Parasympathetic Activities
Are you familiar with the sympathetic and parasympathetic nervous systems?
If not there's an easy way to remember which is which. The sympathetic has to do with 'flight or fight'. And the parasympathetic has to do with 'rest and digest'.
Coming off the ice after a game the sympathetic system is ramped up. Cortisol, lactic acid, lactate and other waste products are all flowing through the vascular system. And these put the brakes on recovery and feel loose, fresh and ready to go.
On way to reverse this is to ramp up the parasympathetic nervous system. This is done by doing what you enjoy. If I played in the NHL I'd be watching Dumb & Dumber and going to comedy clubs. I love to laugh and it's my favourite way to blow off steam.
For everyone it's going to be different. Figure out what you enjoy doing then do this to take your mind off the competition, to relax and enhance your recovery.
Recovery Tips #6, 7, 8 – ???
I mentioned there are 8 tips to enhance your recovery.
Want the next three tips?
And want more specifics on the above 5 tips? More specifics on the nutritional and hydration guidelines?
Pick up a copy of www.premierhockeytraining.com and you'll get these plus everything else you need for your off-season training.
If you have any questions post them in the comments section below.
Chris                                                                                                                                                                                                                                 onsidehockeytraining.com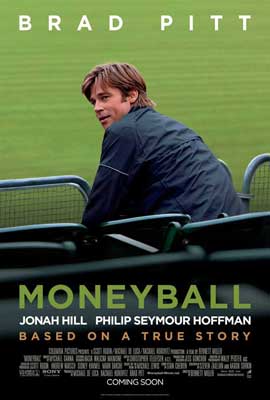 I love going to movies. And it doesn't really matter what's playing. It's a great chance to sit back and be entertained for a couple of hours. Sometimes the product is great and other times it was just a fun way to step away from training and work and relax for bit.
Recently I went and saw Moneyball with Brad Pitt. I thought this was a great show but I can understand why some baseball fans would be put off by the story. If you haven't seen it here's a quick synopsis.
Oakland is a small market MLB team with the same aspirations of every other team in the league which is to win a World Series. However the constraints of playing in a smaller marker mean less revenue is available to draw, sign and keep the top talent in the game.
As the A's continue to lose top level players to free agency and fat pay cheques elsewhere they begin using a new system for building a team. They start selecting players based on a computer program that identifies on base percentage, amongst other things. Oh yeah, the program also breaks down the statistics of the players with their contracts so it becomes very clear to choose undervalued players, based on this computer model, and build a successful team.
In the end A's are quite successful with this approach but never win it all. Other teams notice what they are doing and begin drafting, trading and signing players based on this method also.
But would this work in hockey?
Could you use a computer program to build the best team possible for the best value? These goals translate all sports. It doesn't matter the game. Every owner and GM is trying to win a championship without having to break the bank.
If we were to build this computer program to identify the best, hidden talent out there what would we want to put on the list?
Now let's remember for a second that we need to find players that may become great one day but are available for a dime. So we can't load up on Ovechkins or Crosbys. The problem with these types of players is that everyone knows they are awesome and therefore we can't afford them.
So what attributes do we look for in a player to find untapped potential?
Do we look for the best physical specimens? Or the ones who put team first?
Where do you start when putting your list together? Can you find players in ECHL such as Alex Burrows who will one day play on the top line of a Stanley Cup finalist team?
Are there any other Zetterberg's out there available for the draft?
Recently a research article identified a number of physical characteristics that translate to on-ice performance at the NHL level. Do we simply evaluate potential players to see how they score on these abilities?
What would you do if you were the GM of an NHL team and were given the task of creating a moneyball system for hockey? What would your list of criteria look like? And in addition to the criteria you identify give an example of a player you would draft, sign or go after to have on your team.
I look forward to your answers in the comments section.
Chris                                                                                                                                                onsidehockeytraining.com