Unless it's an opponent I hate seeing people wasting their time and money.
There are enough things to think about and prepare for in hockey that we should be as focussed and efficient as possible.
Too often I see hockey players do too many drills and exercises not relevant to improving their performance. I put their in italics because the best hockey program for you is the one that addresses your needs and goals.
The best hockey program for you is not necessarily the one being followed by the highest scorer on your team.
Or by the strongest, most powerful player on your team.
Or the one used by the top players in the NHL. You'd be surprised how many times coaches, players and parents will tell me they got a copy of (substitute your favourite hockey player's name)'s training program and could we follow that in our training?
Sure. We can do anything we want.
But would this program get you the best results? Would it prevent you from suffering from non-contact injuries? Would it be the best investment in your time and money?
Probably not.
Let me put it you this way.
Imagine you got sick. And the doctor said you needed a specific prescription. And this prescription would be dependent on your size, age, severity of symptoms and the time you had been sick.
Let's add to this that this prescription was new to you and you wouldn't know how you would respond. Heck, the doctor didn't even know for sure if the prescription would work for you. Plus with every prescription there are always side effects. So even if the drug works for you you may still suffer from other symptoms by taking this drug.
Now let's say your friend had a prescription filled for him or her a while back. And there was some left over. The prescription may or may not be for the same illness and symptoms you are experiencing. But we do know the following:
* you and your friend are different ages
* you are totally different sizes
* you don't have the same experience (tolerance) to prescriptions
* the severity of your symptoms was quite different
Would you take your friend's prescription?
Nobody would. In fact even if you had your own left over prescription from a previous illness you wouldn't be allowed to bring this in to a hospital with you.
The prescription has to be specific to the individual.
That's how your hockey training program should be. It should address your weaklinks and be specific to your goals.
Guess what?
This is exactly the first part of Premier Hockey Training (www.premierhockeytraining.com),  the complete off-season training program for hockey.
In this program you receive an Assessment Package and Corrective Exercise Cheat Sheet.
This package walks you step by  step through the various tests to identify what your weaklinks are and what needs to be addressed first.
But knowing what your weaklinks are is useless you know how to fix them. This is exactly the purpose of the Corrective Exercise Cheat Sheet.
Does your knee collapse in when you stride? The Cheat Sheet shows you how to fix this.
Do you have one foot that turns out when you squat, lunge, step or run. The Cheat Sheet fixes this one too.
And here's the kicker.
Not only are you at a greater chance of getting injured with these kinds of compensations but are wasting energy.
That's right. Instead of directing power into the ice for movement you are directing it into your joints, which stresses the joints, and results in lower power production.
I hope this isn't you. I hope you aren't wasting energy. I hope you aren't a liabilityto get injured.
The Assessment Package and Corrective Exercise Cheat Sheet in www.premierhockeytraining.com can address these issues before they become a problem.
Want a sneak peek? Here you go.
Corrective Exercise Treatment Table 'Cheat Sheet'
Compensatory movement

Tight/over active muscles

 

Weak/under active muscles

 

Treatment

 

1. Foot turns out – externally rotates in anterior view

Calf complex:  gastrocnemius,

peroneals, soleus

 

 

Gluteus medius, gluteus

maximus, medial hamstring

(posterior tibialis)

 

 

SMR (foam roll) calf complex,

static stretch calf complex,

lateral band walking

 

 

2. Knee moves inward – adducts                                                   

Adductor complex: (peroneals,

lateral gastrocnemius)

 

Gluteus medius and gluteus

maximus (posterior tibialis)

 

SMR adductor complex, calf

complex, lateral band walking, supine bridging

 

 
Sorry that the page cuts off the treatment part on the right. But in that column you are told the exact stretches and exercises to address your compensations. In total there are 11 common compensations laid out in specific detail for you.
Plus there are videos to go with the exercises.
And we can get on the phone and discuss your assessment if you like.
Want to get started on a hockey training program specific to you? Head over to www.premierhockeytraining.com now and pick up your copy today!
Chris                                                                                                                                                     onsidehockeytraining.com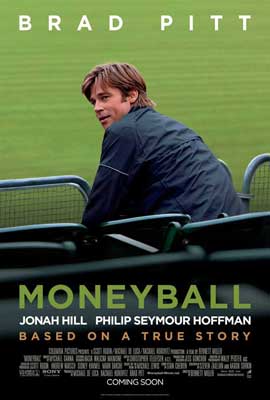 I love going to movies. And it doesn't really matter what's playing. It's a great chance to sit back and be entertained for a couple of hours. Sometimes the product is great and other times it was just a fun way to step away from training and work and relax for bit.
Recently I went and saw Moneyball with Brad Pitt. I thought this was a great show but I can understand why some baseball fans would be put off by the story. If you haven't seen it here's a quick synopsis.
Oakland is a small market MLB team with the same aspirations of every other team in the league which is to win a World Series. However the constraints of playing in a smaller marker mean less revenue is available to draw, sign and keep the top talent in the game.
As the A's continue to lose top level players to free agency and fat pay cheques elsewhere they begin using a new system for building a team. They start selecting players based on a computer program that identifies on base percentage, amongst other things. Oh yeah, the program also breaks down the statistics of the players with their contracts so it becomes very clear to choose undervalued players, based on this computer model, and build a successful team.
In the end A's are quite successful with this approach but never win it all. Other teams notice what they are doing and begin drafting, trading and signing players based on this method also.
But would this work in hockey?
Could you use a computer program to build the best team possible for the best value? These goals translate all sports. It doesn't matter the game. Every owner and GM is trying to win a championship without having to break the bank.
If we were to build this computer program to identify the best, hidden talent out there what would we want to put on the list?
Now let's remember for a second that we need to find players that may become great one day but are available for a dime. So we can't load up on Ovechkins or Crosbys. The problem with these types of players is that everyone knows they are awesome and therefore we can't afford them.
So what attributes do we look for in a player to find untapped potential?
Do we look for the best physical specimens? Or the ones who put team first?
Where do you start when putting your list together? Can you find players in ECHL such as Alex Burrows who will one day play on the top line of a Stanley Cup finalist team?
Are there any other Zetterberg's out there available for the draft?
Recently a research article identified a number of physical characteristics that translate to on-ice performance at the NHL level. Do we simply evaluate potential players to see how they score on these abilities?
What would you do if you were the GM of an NHL team and were given the task of creating a moneyball system for hockey? What would your list of criteria look like? And in addition to the criteria you identify give an example of a player you would draft, sign or go after to have on your team.
I look forward to your answers in the comments section.
Chris                                                                                                                                                onsidehockeytraining.com

In the last post I opened the discussion on Turkish Get Ups.
And I played the Devil's Advocate by asking if this simply wasn't an exercise that in a year or two we'll all be looking back on wondering what were we thinking.
But I don't think so.
Instead I see this exercise as sticking around for a while when it comes to hockey training because it offers so many benefits to the development of the complete hockey player.
So with that in mind here are my Top 11 Reasons Hockey Players Should Do TGU.
Reason #1 – It Facilitates Shoulder Stability
Quick question…what's one of the most common injuries a hockey player will suffer if they get hurt? If you're talking about the whole body you'd have to think of the groin and hips. And if you think of the upper body this would have to be the shoulders.
In a game where the first part of the body to take the impact against the boards is often times the shoulder this makes sense. Add to this the fact you are dealing with the joint with the greatest range of motion but doesn't have a hinge or socket to hold it in place and you're asking for trouble.
By holding a kettlebell overhead you are developing the stability of this joint which helps minimize potential injury down the road.
Reason #2 – Increased Fat Loss
Do you remember the recent research article that examined which fitness and athletic parameters correlated most closely to performance in hockey?
If not, that's ok.
One of these was how lean the player was. Lower levels of bodyfat equated to higher levels of performance.
The TGU is an excellent whole body exercise that works the upper and lower body, in all planes of motion while challenging the cardiovascular system. Athletes have realized heart rates in the 180s from as little as 3 reps of this exercise.
All of this metabolic disruption makes the TGU an excellent choice for fat loss.
Reason #3 – Full Body Exercise
Hockey isn't a lower body game. Nor is it an upper body game.
It is a whole body game that requires strength, power and coordinated movement throughout the system.
The TGU is a great exercise because you can't rely on only your upper or lower body to complete the exercise. As such you quickly learn and develop whole body strength to translate to on ice performance.
#4 – Excellent Core Development
We all know the benefits core training has on hockey performance.
But after that there are many choices.
What the TGU offers is a little bit of everything.
You need core stability and core strength. You need to be able to flex and rotate through the core through one part of the exercise while resisting flexion and rotation at another point.
You move through all planes, from your back to standing and can be modified to regress or progress the exercise as needed.
#5 – Excellent Neural Development
If you watch young kids play hockey you may notice that their eyes are on their feet when skating and on their stick when the pucks is theirs.
However watch the pros at the highest level and their eyes are anywhere but at their feet or stick. Instead they are looking at their teammates, an opening to shoot or where there is open ice. In other words they are able to perform complex coordinated movements without looking at the ground.
Turkish Get Ups are very similar in that they require you to look up at the kettlebell while you perform them.
While your arms and legs are moving in multiple planes and the body changes from a supine to a standing position the nervous system must learn to coordinate these movements in a similar way that a hockey player can take a pass off his skates and kick it to his all while looking ahead to see the play developing.
Stay tuned for Part II where I give you Reasons #6-11.
Chris                                                                                                                                                  onsidehockeytraining.com
Last night I went and checked out the Kelowna Rockets and Lethbridge Hurricanes game. Kelowna had lost the night before to Chilliwack and was looking to get back in the win Kelowna. The Hurricanes are sitting on the outside looking in on the playoff picture and need to pick up points wherever they can get them. Even if that means on the road against the top team in the BC division.
Checking out the visiting roster before the game I noticed the Lethbridge goalie Anderson, I think that was him name, had 14 penalty minutes. Either this guy has trouble playing the puck or he loses his cool from time to time.
So Kelowna would do well to put pressure on the Lethbridge d-men and get in Anderson's face.
The game was 4-2 half way through the third when the Hurricanes got within one of the power play.
But after a bit of a delay the goal was disallowed as a delayed penalty for spearing against the 'Canes was to be called at the next stoppage. This next stopage ended up being Lethbridge's 3rd goal which was called back.
Instead Kelowna ended up with a double minor power play and Wudrich buried one in the slot to make it 5-2.
This all but ended the 'Canes chance at a comeback.
But it's also where the visitor's became totally unravelled.
Rich Preston, the Lethbridge coach, wanted to share a few of his thoughts with the refs. The coach then proceeded to throw everything that wasn't bolted down on the visiting bench onto the ice.
The Lethbridge players got in on the act as well throwing all the water bottles, clip boards and gatorage jugs onto the ice.
One of the key Lethbridge forwards was thrown out of the game.
After the final horn a Hurricane player skated to center ice and tapped his stick on the ice in mocking acknowledgement of the officials.
So what's the point of this whole story?
It's that there has to be a culture of respect on your team.
It's that this culture is established at the top and trickles down to the captains, assistants, over age players and to the young guys.
And unfortunately the culture that Preston has established in Lethbridge is not a good one. It is not a winning one. And it is not one that should continue.
Regardless of whether a team is having success or not you want to be able to stay in control of your emtions.
You want to put your energies and efforts on achieving team established goals and tactics.
You want to make decisions that set a good example.
And you want to do things that allow everyone underneath the coach to quickly and easily know and understand what their culture is all about.
Now when you look back and recall the penalty minutes the Lethbridge goalie has amassed this year it all makes sense. He is simply following the example that has been set for him.
Unfortunately it is a bad example and will lead to an early end to the Hurricanes season. And as long as Preston stays on as coach of this team there will be going nowhere.
Chris                                                                                                                                  onsidehockeytraining.com
I really enjoy learning things that make a big differences in my efforts. Sometimes it's due to a conscience effort to make a particular change to the program. And other times you might do something different, not necessarily purposeful, but notice an improvement.
Read the rest of this entry »